1) REVIEWS WITH UPVOTES LAST LONGER!
Thanks to a study that was published by Sterlingsky, we learned that if a local listing manages to garner 10 reviews or more, they get a ranking boost in the Local Search Results by Google. The study also shed light on the fact that the recency and length of the reviews play an important role.
Last month, we saw the results of another study being published! This new study suggests that reviews with more than one upvote tend to stay in the top ten for around 100 more days as compared to those with one or no upvote.
Take a look at the chart below that clearly indicates the more upvotes a review gets, the longer it stays in the top ten.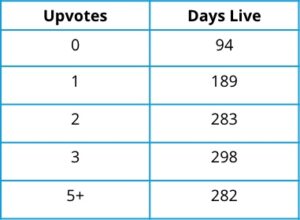 Considering the fact that a previous study conducted in 2021 reported that the upvotes play no role in moving a review up in position, the findings of the latest study have surprised many.
Why This Is Important?
Having useful reviews appear in the top ten is bound to be more beneficial not only for your business, but also for your customers. Hence, it is recommended that while asking your customers to leave a review, you also ask them to upvote the helpful reviews they find on your listing.
2)LET'S CHECK OUT WHAT WORKED OUT FOR LINK BUILDERS IN 2022
According to Google, links may become less important in the future. But a recent survey contradicts Google's prediction. The survey says that links continue to be a critical ranking factor.
The survey anonymously asked 755 professional link builders about how they build links, what works best / worst for them, and what it really takes to make link building work for their business.
Here's a summary of the most interesting findings and key statistics:
74.3% of link builders pay for links. We knew this number would be high, but didn't expect it to be this high.
We broke down the specific amount being paid and found that the average cost of a paid link is $83.
However, when comparing those who pay for links VS those who don't, we found that paying for links yields only an extra 2 links per month.
In-house SEOs pay 75% more for links than niche site owners. Nobody seems to have a problem spending other people's money.
Looking at all links, when salaries are factored in, we found that experienced link builders can build links 41% cheaper.
It takes an average of 3.1 months to see the impact of a link on the search ranking, with very few saying it takes longer than 6 months or less than 1 month.
Guest posting is, by far, the most popular link-building tactic. It is somewhat contradictory to the point that the same people said creating content or linkable assets is the most effective link-building tactic.
Google has told us that nofollow is a hint, not a rule. Our participants agreed, as 89.1% of link builders say nofollow links have an impact on rankings.
Looking for a way to boost your results? Are you using social media for outreach? Link builders using social media build 22% more links than those who don't.This survey was published in November 2022, just before Google's Link Spam Update. This update specifically targeted purchased links, showing that Google still considers links to be an important part of its ranking algorithm.However, there is a possibility that Google is overestimating its ability to detect purchased links. Only time will tell if buying links is still a viable ranking strategy. So, for now, be careful and stay tuned for updates.
3) BING SEARCH IS GETTING CHATGPT; A CODE RED FOR GOOGLE?
There is a question that is being discussed all over the world now: Can ChatGPT answer all of our questions in the way we want? And if it can, will it revolutionize how we search for and ask for things on search engines? Well, you may wonder, discuss, or throw your opinions straightaway, but Microsoft is bringing ChatGPT's AI question-and-answer service to its Bing Search, opening a whole new world of possibilities for us to interact with AI in everyday life.
This chatbot, launched by OpenAI, has become incredibly popular across the globe. Everyone, not just professionals, is using it for their projects, research, homework, writing essays, and getting answers to their queries. Some people loved it so much that they called it the "Google killer!" So, is it a code- red for Google, or are we going too far? Let's find out.
Launched in November 2022, ChatGPT is based on OpenAI's GPT-3.5 family of large language models and has been refined through supervised, reinforcement learning techniques. It can teach itself how to answer questions by using content drawn from the web that dates up to 2021. However, it has difficulty keeping up with recent and popular topics!
Keeping all that in mind, Microsoft is planning to launch a version of its Bing search engine that uses the artificial intelligence behind ChatGPT to answer search queries instead of simply providing a list of links. This feature will depict a human-like interaction, which Microsoft thinks will help it outflank Google.
So is it really a "Call the ambulance!" moment for Google? Well, experts in the industry are saying no. Google already has advanced AI and machine learning that can do the same as ChatGPT or even better. And to add to this, it has ways to detect AI-generated plagiarism and scraped content. In conclusion, it's a "Call the ambulance, but not for me!" from Google's side.