Improve Your Online Visibility and Increase Sales with Ad Exact SEO Packages
It's not just about getting more traffic—it's about getting the right traffic. Our team will work with you to understand your business goals and create a customized SEO strategy that helps you reach your target audience and convert them into customers.
Don't let your competitors steal the spotlight. Get your FREE Website Report to analyze where your website is shining, and where it's falling short!
As a small business owner, I have never found an advertising agency that can do anything & everything I need. The owner Pat is not only very experienced but gets very involved and cares about the clients and respects their budgets. They are the first agency I have found that really cares!
Even though I am not in the same state, they can do everything I need remotely. I would recommend Ad Exact Advertising for any advertising, promotional, web design, or anything you need to make your business grow at an affordable price!


3 Easy Steps to Receive Your Free Website Report
Step 3
Get Your Free Website Report in 24-48 Hours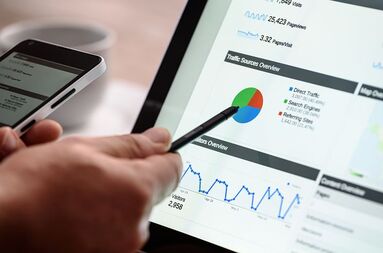 This Report will provide valuable information like on-page optimization score, mobile-friendly ratings, keyword rankings, off-page optimization score, competitor analysis, and social analysis so you can learn more about how we can help your business grow!
How does SEO improve my business?
SEO is tangible work being done to the website that strengthens its foundation and makes it more appealing to search engines. As a result, the website ranks higher and is more visible to prospective clients on search engines such as Google and Bing.
What does an SEO package include?
Our base SEO package includes
All-In-One SEO Dashboard

1 Keyword Topic and 1 Target Location (Location of Business)

7 Target Keywords

1 Piece of Content Writing or Guest Blogging Every Month

10+ Backlinks Every Month

5 Website Pages of On-Page Optimization

Website Audit and SEO Issues Fixes

Google My Business Listing Advanced Optimization as Required

Website Goal Conversion Tracking

SEO KPI Dashboard and Metrics

Website Uptime Monitoring and Reporting

Weekly Website SEO Health Check via Crawler Audit

Weekly and Monthly SEO Status Reports

Free Listing Sync Add On  
Our FREE listing sync service (worth $300) package includes
Manage All Your Business Listings
Create new listings, manage existing ones, and correct inaccurate information on all of your listings with listing sync. One place to manage your business information across Google My Business and other places your local customers are searching is a powerful tool.

Build Your Search Engine Optimization (SEO) 
Search engines value accurate information and reward accuracy with more visibility. By managing your business information online on a regular basis, you ensure that not only can customers find you, but that your online optimization is strong. 
Valuable Customer Information from Google Insights
Understand how your business is performing on Google My Business. Insights from your business listing give you customer activity information that could be valuable in connecting with them or finding more customers like them.
Local Search-Optimized Mobile Listing 
The majority of your customers use their mobile phones to find local businesses. Create a mobile-optimized listing within Listing Builder that connects local customers easily with your contact information and directions and drives traffic to your website.
What is on-page vs. off-page SEO?
Any work that's done on the actual site, such as titles, tags, descriptions, content, website structure, etc., is known as on-page SEO. Any work not done directly on the website, such as blog writing, link building, social sharing, bookmarking, various content, and more, is known as off-page SEO.
Should people do SEO if they already rank?
Absolutely! SEO is dynamic. Search rankings and results shift and change. What works today may not work tomorrow. Google is constantly updating and refining its algorithms. Also, as competition increases, it's important to stay on top of SEO, so your website continues to be relevant. Good websites are doing SEO constantly to maintain and continue improving their rankings. You may rank for your core terms, but it's important to rank for secondary and tertiary terms as well.
What's the connection between GMB and local SEO?
Google Business Profile is like a directory that maintains key business information such as name, address, phone, hours of operation, map, photos, videos, categories of business, forms of payment, etc. Google gives prominence to these listings and they show up on Google SERPs and Google maps, both on desktop and mobile. Hence, having a fully completed and verified listing is very important and helps with rankings.
What Our Clients Are Saying
[divi8_testimonial_carousel divi8_testimonial_sliderperview_desktop="1″ divi8_testimonial_sliderperview_tablet="1″ divi8_testimonial_content_position="layout3″ divi8_testimonial_rating_color="#BA141A" divi8_testimonial_pagi_bullet_color="#000000″ divi8_testimonial_arrow_background="#000000″ divi8_testimonial_arrow_background_hover="#000000″ _builder_version="4.19.4″ _module_preset="default" text_text_align="center" content_text_align="center" background_color="#f3f5fa" global_colors_info="{}"][divi8_testimonial_carousel_item name="Active Client in Florida" rating="5″ description="%22Ad Exact has provided us with an excellent online local presence. We have been very impressed and very satisfied with the timeframe in which we have seen our local presence improve drastically."" _builder_version="4.19.4″ _module_preset="default" global_colors_info="{}"][/divi8_testimonial_carousel_item][divi8_testimonial_carousel_item name="Active Client in Colorado" rating="5″ description="
%22The guys provide us with the ability to use advanced metrics in our business. We can increase visibility and volume in our business without decreasing quality and performance.%22
" _builder_version="4.19.4″ _module_preset="default" global_colors_info="{}"][/divi8_testimonial_carousel_item][divi8_testimonial_carousel_item name="Active Partner from Virginia" rating="5″ description="
%22An affordable and effective SEO solution. With useful dashboards to monitor performance and provide accountability that real work is being done.%22
" _builder_version="4.19.4″ _module_preset="default" global_colors_info="{}"][/divi8_testimonial_carousel_item][/divi8_testimonial_carousel]